Antler Ridge Lodge - Testimonials
Here's what a few of our customers have had to say about us.
Have a testimonial of your own to share?
Send a Testimonial
Mark Hodson
Fall 2021 - Tahlequah, Ok
My brother in law took me with him this year since he was telling me how great Antler Ridge Lodge was. It was everything I was expecting and much more. The hunting was great limits ever day. The food oh my the food, ever meal was unbelievable. The friendliness of the owners and all the staff was the best . We enjoyed Dave taking care of us in the field. Watching the dogs working really finished off the hunt.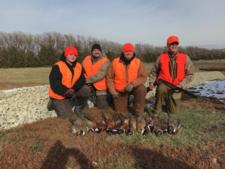 Dennis Whittle
Pheasant Season 2017 - Volga, Iowa
In addition to the excellent pheasant population; the guides are safe, well organized and have top notch dogs. The staff makes you feel like family but treats you like royalty and the lodging and food are second to none! I took my 16 year old son for a guys weekend and it proved to be the best experience we've shared and is something we will never forget. Thank you Steve, Donna and the Antler Ridge Lodge staff!!!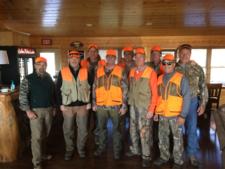 Dr. Dale Sweeney
Spring 2017 - Port Huron, MI
This is our 3rd season in a row hunting in SD and staying at the Antler Ridge Lodge. Another year where we have limited out on our birds within hours. Every year has been amazing. I am not sure what is better. The hunting experience in the field or the hospitality extended by Donna and Denise. Their meals are amazing and their kindness is limitless. Steve does a fine job keeping the bar stocked and the lodge has all the comforts of home. The whole trip is safe, fun and relaxing. The whole Antler Ridge Team is professional and it's an overall wonderful experience. I highly recommend a stay here.
Randy Hanson
Fall, 2015 - Iowa
I've been to a lot of places in South Dakota and nothing has come close to the wonderful experience had at Antler Ridge Lodge. It was my adult daughter's first SD opener and she couldn't have had a better weekend. The facilities, lodge, food, hospitality - everything was top notch! Our party of 5 had a fantastic hunt and we will certainly be back.
Dale Fuller MD
Pheasant Hunt
Combine traditional South Dakota hospitality, excellent food, a very comfortable lodge, pretty country, and more pheasants than I have ever seen in my life, (even as a native South Dakotan) and you have all the essential ingredients for an excellent hunting trip. Such was our experience October 22-26, 2009.
Dale Fuller MD
Dallas, TX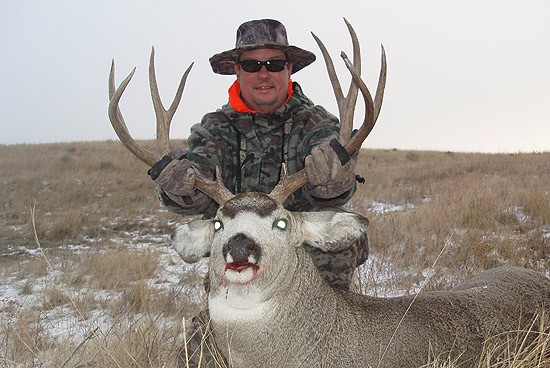 Joe Smallwood
Deer/Pheasant Combo Hunt
Everything about Steve and Donna and their operation is first class. They pay attention to all the details that make the difference between a good hunt and a great trip. The consistantly phenominal hunting is only one part of the story. The guides, meals, service, accomodations, and good company are what makes the experience great.
Joe Smallwood
Naples, FL
Ron
Pheasant Hunting Testimonial
Steve and Donna, What a great party you throw. We had an outstanding time at your lodge and enjoyed getting acquainted with both of you. You have done it right and I know you have big plans for the future. See you next year. I have attached a couple of the pictures we took. All the best to you and your family and enjoy the holidays.
Ron (From a Group of hunters from Kansas, Michigan, California, Florida and Georgia on a late November pheasant hunt)
Bill Thompson
Pheasant Hunting Testimonial
Why would you want to go anywhere else? -- after a November pheasant hunt.
Bill Thompson
The Villages, Florida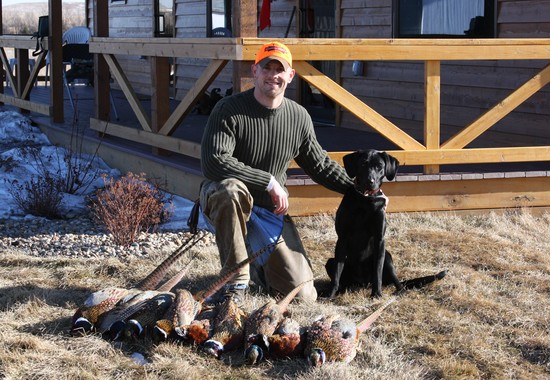 Joe Kratzke
Pheasant Hunting Testimonial
Pheasant hunting at Antler Ridge Lodge provided a memorable experience. Every field was easy to walk and there was a wealth of birds. I have never seen so many birds in one sorghum field strip in my life. It was truly an adrenaline rush!

After our hunt, the Kubik's sincerely treated us as if we were family by presenting us with a generous meal at their well-designed, new lodge. They genuinely went out of their way to make us feel welcome.

Joe Kratzke
Mankato, MN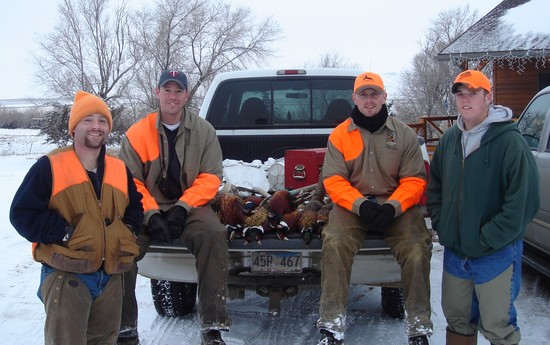 Ryan Trask
Pheasant Hunting Testimonial
The moment we drove into the first sorghum field, the roosters started flying and scurrying around immediately. The roosters were unbelievably wild.

I have been out to Antler Ridge two times now and the pheasant hunting has been excellent both times. November with no snow was a fun time and the last week in December with snow on the ground was just as fun even with the cold temps. Both visits we have got our limit and the shots at the birds have been tough, just like I want them.

The new lodge is impressive and very comfortable. I am thoroughly impressed with Donna's cooking. Her cheeseburger soup is excellent and she makes sure you leave the table with a full stomach.

I have hunted with over a dozen pheasant hunting outfitters in the state of South Dakota. For a pheasant hunting outfitter, corporate trip, group event, or a few buddies hunting together, I would recommend Antler Ridge Lodge without reservation. The new lodge and the pheasant hunting is one of the absolute best for the price hands down and it's only a matter of time before others start to realize this. Give me a call... I'd be happy to tell you about my experience at Antler Ridge Lodge.

Ryan Trask
Mankato, MN
Chad Coburn
Hunting early season mule deer at Antler Ridge Lodge with Steve and Donna Kubik was an outstanding experience. This was the first time I have ever pursued mule deer and I had the opportunity to try all means of hunting them from spot and stalk, to stand hunting and blind hunting as well. I can't say enough good things about Steve and Donna, plus their boys Trent and Ty, and the hospitality they provide.

The newly completed, spacious lodge and the meals Donna prepared were beyond expectation. It was a good thing I did a lot of walking to burn off all the calories I was taking in!

The guides, Jack and Al, were very knowledgeable about mule deer and where we could find them and what we needed to do to get into range. I saw upwards of 50 deer a day including bucks that ranged from 140" to 170", plus a good crop of promising younger bucks. I was into mature bucks every day of the 3 days I hunted, having closed to within bow range on three occasions, but the shot just didn't materialize like I would have liked. I didn't spend time in their whitetail areas, but did see a 130" whitetail while driving to a hunting location, they do have some good whitetails too.

I went home without a deer, but that did not skew my opinion of Antler Ridge Lodge. I will definitely return. Opportunity on great animals, with great people, great food, and great lodging, what more could a bowhunter ask for? I have hunted in many places and stayed in many lodges and this is a first class operation. As a discriminating bowhunter, the Kubik's more than met my needs.

Chad Coburn
Victor, Iowa
(319) 647-8378
Send us a Testimonial
To our past clients: We appreciate your comments and if you would, fill out the form with comments and a photo about your experience at Antler Ridge Lodge. Fields marked with * are required. Please enter the Name field how you want your name to read on our website (Examples: John Doe, J. Doe, John D., John Doe Corporation).